Contact Daly Windows for Window Replacement in Palm Harbor.

Palm Harbor Replacement Windows are as easy as 1-2-3:
1. Daly Windows has been replacing windows in Palm HArbor nearly 50 years. Our certified and trained specialists are ready to serve you. Pull up our Easy Window Replacement Form here or call us.
2. Tell us about your windows by completing the Easy Window Replacement Form.
3. Your Done.
Start Now
Replacement Windows using Aluminum Windows or Vinyl Replacement Windows
Are you ready to update your windows? It does not matter how many square feet or architecture of your home, you' will see a new world of satisfaction and performance with our Aluminum windows and vinyl Windows replacement.  It's proven, Aluminum windows are a low maintenance choice that will fit ANY budget!  We offer Palm HArbor residents superb quality windows, designed and manufactured for years of reliable performance and smooth operation.  Our customers love both styles of windows because they open and close easily and quietly.  Plus, our durable aluminum window frame and sash provide both an attractive painted finish in your choice of pure white or stunning bronze. 

The energy-efficient design can provide a tax credit and includes features such as a double weather-stripping and interlocking meeting rails to keep wind and water out while additionally keeping the air conditioning and heating in.  Every PGT Aluminum Window is custom-built to your exact specifications, leaving nothing to chance at installation time.
Replacement Windows and Energy Savings
Daly's Windows offers Palm Harbor residents a PGT® replacement window that will lower your energy costs while reducing unwanted noise and filtering out 99% of UV rays that cause fading to your home's drapes and furniture, plus they provide safety with 24/7 intruder and hurricane protection! Our windows are offered with aluminum and vinyl window frames, non-impact and impact-resistant glass, Tax Credit and ENERGY STAR® qualified configurations, and many other options to meet your needs.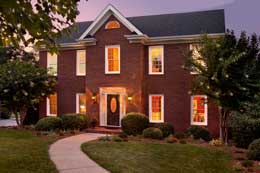 Palm Harbor loves energy-efficient Home-Replacement-windows
Check out our energy-efficient Home replacement windows from PGT Winguard which combine style and high performance to meet the needs of today's most discerning homeowners.  PGT offers some of the highest ratings for energy, structural, air and water resistance in a vinyl impact window for the single and multi-family residential homes.

PGT Winguard Brand
The Winguard line offers several key features.

Year round home security against intruders and protects against Florida's hurricane-force winds.
Will dramatically reduce unwanted noise from outside your home.
Filters out the suns's harsh UV Rays that fade your furniture and drapes.
Their energy efficient design includes laminated insulated glass to significantly reduce heating and cooling costs.
You will discover this option as a replacement in new construction homes and in the most well-appointed Palm Harbor homes including, condominiums and even hotels and high rise buildings.